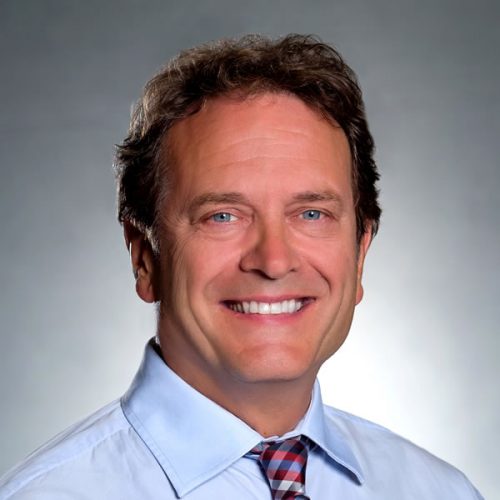 Dr. William Demray is the founder of Preservation Dental®. Since 1977, he has owned and operated his general dentistry practice. As a visionary in the dental field, Dr. Demray has encouraged patients to follow a healthy oral hygiene plan to preserve teeth and gums throughout life. Dr. Demray received the Detroit District Dental Society (DDDS) Dentist Citizen of the Year Award for 2019 for his long term commitment in promoting the profession of dentistry, good dental health and continually giving back to the community.
Dr. William Demray received his Bachelor of Science degree from Wayne State University and his Doctor of Dental Surgery degree from the University of Detroit. He holds a dental license in the states of Michigan, Illinois and Washington and is Canadian Board Certified. He is a Fellow in the Academy of Dentistry International (ADI), the International College of Dentists (ICD) and the Pierre Fauchard Academy (PFA). Dr. Demray is an active member of the American Dental Association, the Michigan Dental Association, the Detroit District Dental Association, the Ilinois State Dental Society, the Chicago Dental Society, the Washington State Dental Association, the American Academy of Periodontology, the International Academy of Periodontology and the FDI World Dental Federation (formerly known as Federation Dentaire Internationale).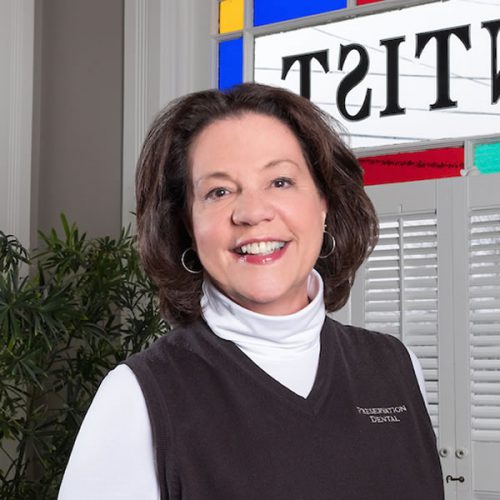 Ms. Jenkins has a media/PR background. She welcomes patients on a daily basis and ensures they are well informed about treatment options. Denise handles the day-to-day business operations and works along side Dr. Demary with community service activities. She represents the practice and serves on the Board of the Northville Chamber of Commerce.
For as long as she remembers, Denise has enjoyed theater and is curently the President of the Tipping Point Theatre Board of Directors - but - her favorite role is ``Grammy`` to three wonderful grandchildren.
Click Here to contact Denise or use the form on the Contact Us page.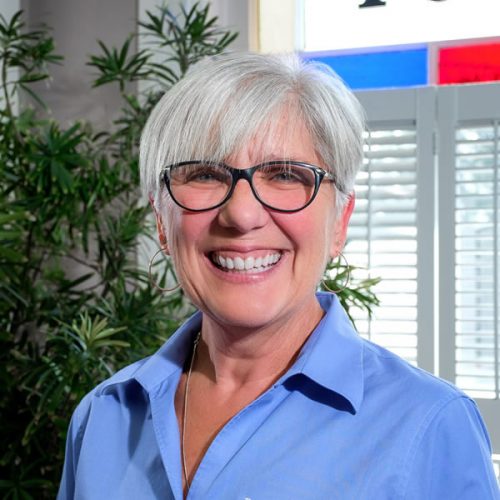 Marge Wisniewski works with insurance companies on a daily basis and is knowledgeable on difficult contract language and coordinating benefits. She communicates with patients regarding treatment plans, from the simple preventative plan to the long-term comprehensive restorative care plan.
Ms. Wisniewski has her Bachelor's of Science in Hospice Education from Madonna University and an MBA from Walsh University. Marge plays many "character roles" in the Preservation Dental community events. But her favorite role is "Mom" to two grown daughters. She enjoys reading, traveling and boating.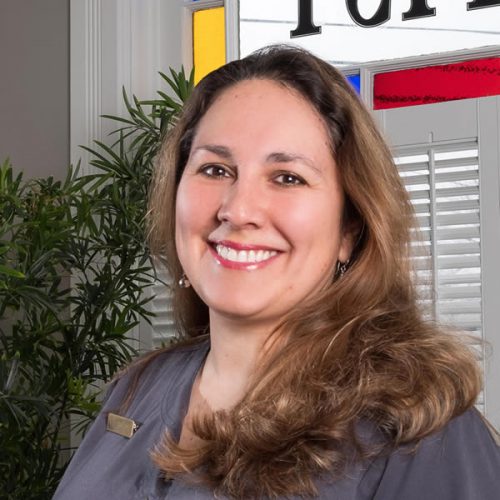 Caterina Sanchez works full time as a member of the hygiene team at Preservation Dental®. Ms. Sanchez was born and raised in Lima, Peru. She graduated from the University of San Simon Dental School in Cochabamba, Bolivia and is an accredited dentist in her homeland. She came to the U.S. in 2003 and pursued her Registered Dental Hygiene license, graduating from Baker College of Auburn Hills in 2009.
Caterina's goal is to educate patients about the importance of preventing and treating oral diseases of teeth and gingiva. Dr. Sanchez received Fellowship in the Pierre Fauchard Academy at a ceremony held at the Chicago Cultural Center in conjunction with the Chicago Dental Society Midwinter Meeting (February, 2014). Caterina has a variety of interests, including cooking Peruvian food, gardening, stamp collecting and coin collecting.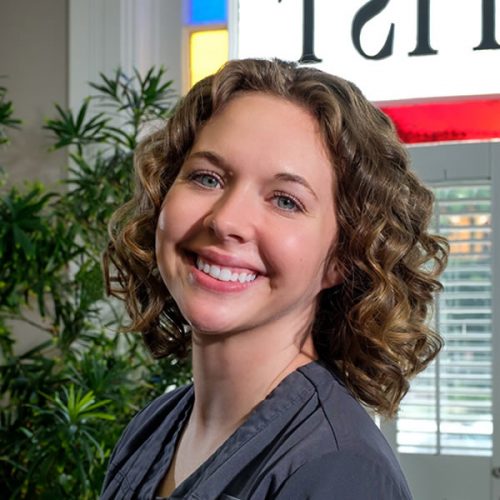 Taylor McNeill works full time as a member of the hygiene team at Preservation Dental® and serves as the Hygiene Coordinator on staff.
Ms. McNeill earned her Bachelor of Science in Dental Hygiene from the University of Detroit Mercy School of Dentistry, with a minor in philosophy. She is a member of the American Dental Hygienist Association. Taylor was the President of the Student Association Dental Hygienist of America while at UDM. She and her team were awarded an honorable mention in a national competition, for a research project: ``Comparing Blood Glucose Levels to Salivary Glucose Levels``.
Taylor provides oral health care education to her patients on a daily basis at Preservation Dental® – and she has done so as a community service to groups that have included recovering addicts at Capuchin Soup Kitchen and the head start program consisting of pre-school aged children. She has also provided oral cancer screenings to residents at nursing homes in the Metro Detroit area. Ms. McNeill has a black belt in karate, likes to read and Halloween is her favorite holiday!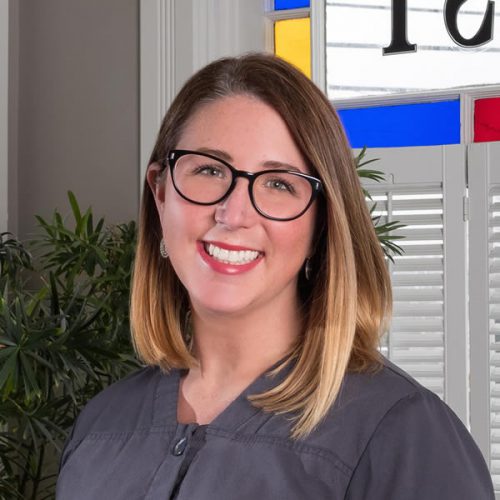 Autum Drew is a Registered Dental Hygienist on staff at Preservation Dental®. She has a great passion for oral health. Ms. Drew graduated Magna Cum Laude from Oakland Community College, with an Associate's Degree in Dental Hygiene and an Associates Degree in Science. Autum received the Oakland Community College Outstanding Dental Hygiene Award 2015-2016. She went on to receive her Bachelor's Degree from the University of Michigan. Autum not only works as a dedicated hygienest - she is also teaching the next generation hygienists at OCC.
When she is not working or teaching, Autum enjoys biking – kayaking – golfing and spending time with family and friends.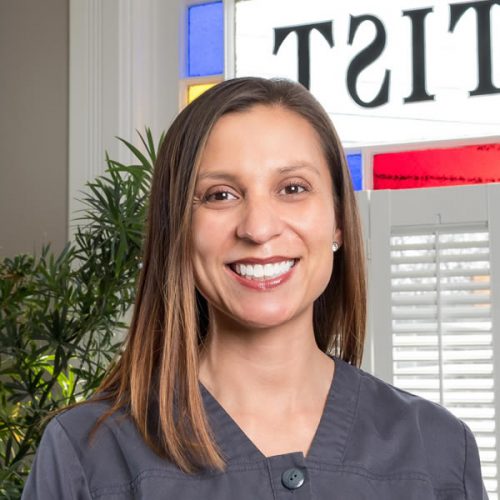 Mary Rigley is a Registered Dental Hygienist on staff at Preservation Dental®. The well-being of her patients comes first and foremost in the practical application of her skill. She communicates well with patients in an effort to help them understand the relationship between oral health and overall good health. As a matter of fact, she received high accolades from her professors at the University of Detroit Mercy relative to customer service. Ms. Rigley graduated from UDM with a Bachelor of Science degree and received her RDH in 2005.
She married her high school sweetheart, has two daughters and one son. Mary stays in shape running and practicing yoga. She hopes to one day take a trip to her ancestral homeland of Peru and while there visit the historic sanctuary of Machu Picchu.
Meet Katie Alhosry. She is Dr. Demray's right hand, literally – Katie is his chair side assistant. She works hand-in-hand with the doctor – and the patient. Dental procedures can be complicated. Katie has a natural ability to ease the tension while assisting Dr. Demray with all procedures from the quick filling to the most difficult crown prep.
Ms. Alhosry attended Ladywood High School and has her Associates Degree from Schoolcraft College. She has spent many years volunteering her time and talent in the autism community. In 2012 Katie was honored for her efforts by the group Celebrities Against Autism. She enjoys golfing and spending time with family.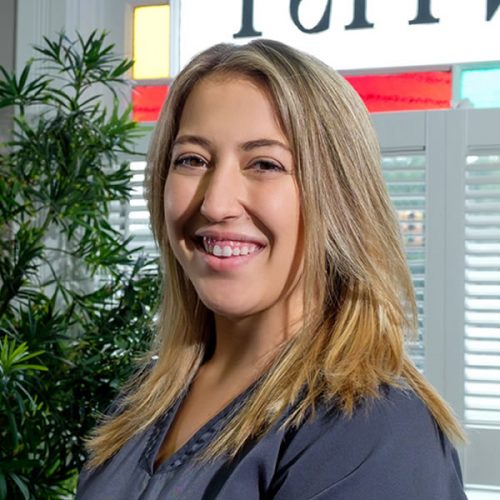 Rebecca DiAngelo is one of Dr. Demray's trusted assistants. She literally works hand-in-hand with the doctor, while keeping the patient comfortable.
Rebecca graduated from Waterford Mott High School and holds an Associates Degree from Oakland Community College. She enjoys reading, kayaking and collects maps! Family is important to Rebecca. Beside her parents and one brother, she has three dogs – Winston, Chicken and Lucci – and many, many house plants.
There is always an interesting conversation waiting for you in Dr. Demray's operatory. Rebecca says: "I like learning and can be caught researching some random topic I have zero reason to be interested in."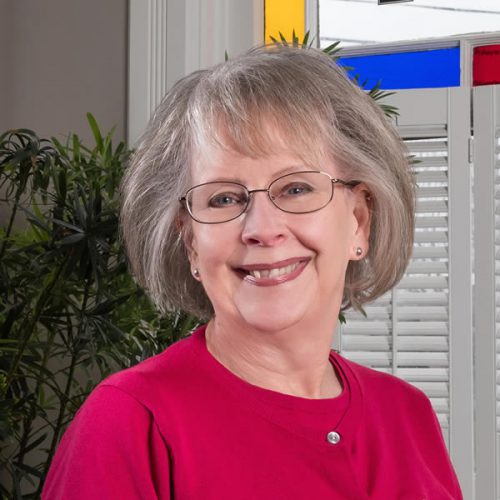 Patricia Feldt - also known around the office as ``Paris`` for an obvious reason - juggles the front desk duties at Preservation Dental® with a smile on her face. She can schedule your next appointment, take a phone call and collect a payment without missing a beat. Perhaps it is her experience raising nine children that prepared her for the task!
Ms. Feldt enjoys writing and serves as a judge in the annual Short on Words literature competition, sponsored by Preservation Dental as part of the Northville Arts and Acts Festival. In addition to writing, Pat is an awesome grandma, an avid reader and constant movie-goer. She has been a storyteller for as long as she can remember - she blames it on her Irish heritage!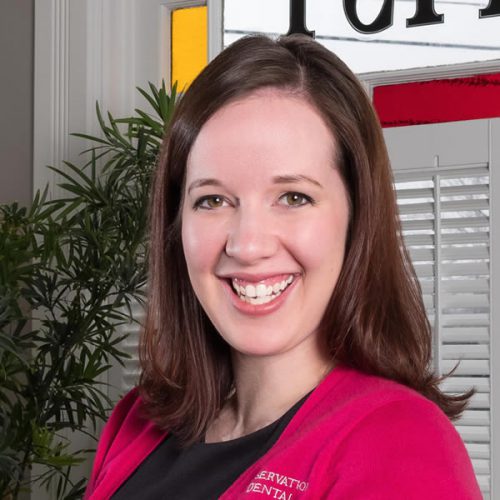 Aimée Crosby is the official Goodwill Ambassador at Preservation Dental®! She lends a smile and helping hand wherever needed. She is the office tech department and the PR understudy.
Aimée graduated from Mercy High School in Farmington Hills, MI – attended Marymount Manhattan College (NYC, NY) and received an Associate's Degree from Valencia College (Orlando, FL) while working as a performer at Disneyworld. Aimée met her husband in the Magic Kingdom - he was a safari guide, she was a chipmunk.
She is very happy in her new role as ``Mommy``.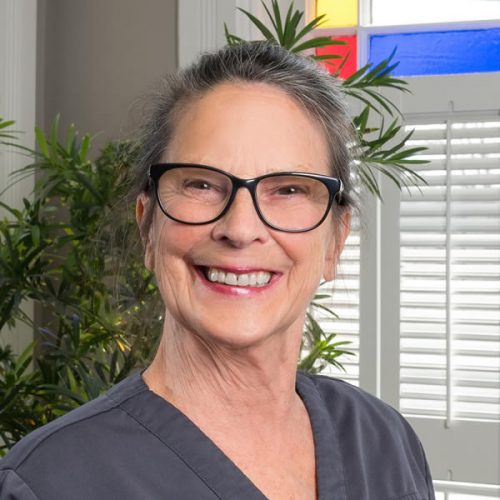 Susan D. Karl is one of Dr. Demray's Assistants. Mrs. Karl has been chairside at Preservation Dental® for several years. In addition to helping the doctor, Susan offers answers to patient questions and a listening ear – a good conversation is one of her favorite pastimes!
She also enjoys cooking, baking, fishing, Jazzercise and three beautiful grandchildren!