Our commitment to dental health
And to each of our patients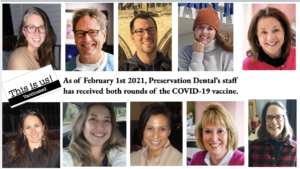 My team and I stand ready to do our best to keep you healthy, and put a smile back on your face. I am proud to say, as of February 1st the staff at Preservation Dental is 100% vaccinated. In light of the difficult roll out and the controversy, as a health care professional I believe it is our responsibility to be on the side of caution and science when it comes to the safety of our patients and the practice.  
We have taken enhanced health and safety measures. An inherent risk of exposure to COVID 19 exists in any public place where people are present. COVID 19 is an extremely contagious disease that can lead to severe illness and death. By electing to have treatment at Preservation Dental you voluntarily assume risks related to exposure to COVID 19.