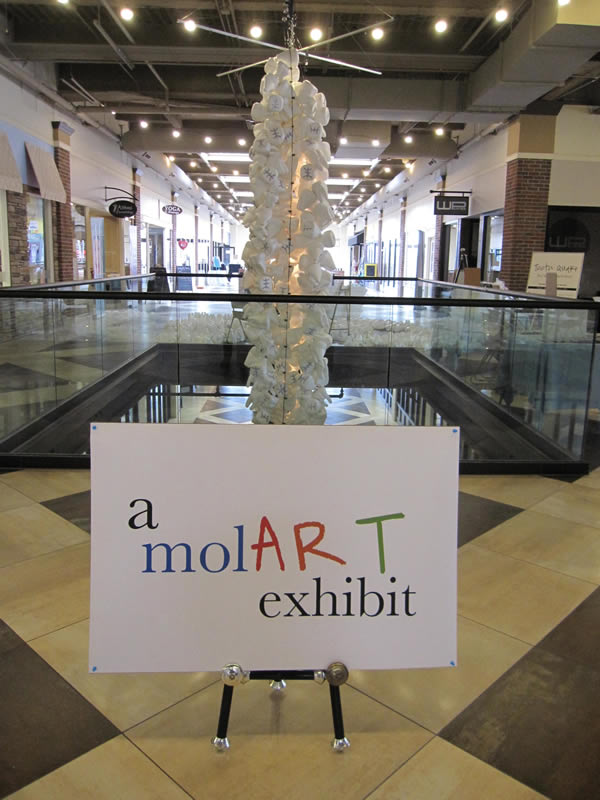 "Teeth are always in style." – Dr. Seuss
Northville, MI – When is a tooth not a tooth? When it's a Project Runway model, or the Big, Bad Wolf, or a Henna tattooth! "a molART exhibit" took place at the Northville Square Mall, February 10-12, 2017 in celebration of National Children's Dental Health Month, sponsored by Preservation Dental – the office of Dr. William Demray. There were more than 200 guests at the opening night festivities.
The exhibit featured more than 70 teeth that competed for cash prizes. The winners were: Marilyn and Ollie Bush for the very crafty Big, Bad Wolf and Granny from Little Red Riding Hood fame. Grace Hayes "Tooth Angel", Mackenzie Fistler "Left Brain/Right Brain", Nate Canales "Basketball Player", Sydney Pedrosi "Toothlandia" and Emily Creighton for The Bird & The Worm. Dr. Demray's "tooth pick" was Miss Sweet Tooth, made by a talented group of individuals with developmental disabilities from Angels' Place Enrichment Program. Honorable mentions were awarded to Emily Aidenbaum, Lauren Heldke, Christina Hernandez, Lauren Rusen and Dane Bower.
The judges considered Originality – Craftsmanship – Elements of Art and Presentation in the scoring process. The judging team included: Jessica Striegle, the Executive Director of the Northville Community Foundation; Dr. Christian Groth from TDR-Specialists in Othodontics; Sue Taylor, representing Northville Art House; Jennifer Gulati representing Novi Oral & Maxillofacial Surgery; Dr. Rachel Stockhausen from Precision Endodontics; Andrea Barber, artist and principal at Euko Signs; Kimberly Raleigh from University of Detroit Mercy and Stephanie Dyc, representing Preservation Dental.
The exhibit was a result of a year-long community service project to support the University of Detroit Mercy Community Outreach Program – specifically the Titans for Teeth Mobile Dental Clinic. The mobile dental van brings the dentist to children in need. The award ceremony at the exhibit began with the presentation of a ceremonial "two-oth thousand" dollar check. The project raised more than $6,000 in the grass roots effort. Supporters include: TDR-Specialists in Orthodontics, Benco Dental, Novi Oral & Maxillofacial Surgery, Precision Endodontics and the Mapes family.
Visit our Facebook album to see teeth from all over the world!
www.facebook.com/pg/toothfall/photos/
# # #
About Preservation Dental
Preservation Dental is the home office of Dr. William Demray. He is celebrating 40 years of practice in Northville. Rubies are the traditional gem celebrating 40th anniversaries. The staff is reminded of the ruby slippers in the story "Wizard of Oz". There is no place like our dental home!